Strict Standards
: Only variables should be passed by reference in
/www/htdocs/w0076070/blogs/wp/wp-includes/gettext.php
on line
66
Strict Standards
: Only variables should be passed by reference in
/www/htdocs/w0076070/blogs/wp/wp-includes/gettext.php
on line
66
Strict Standards
: Only variables should be passed by reference in
/www/htdocs/w0076070/blogs/wp/wp-includes/gettext.php
on line
66
Strict Standards
: Only variables should be passed by reference in
/www/htdocs/w0076070/blogs/wp/wp-includes/gettext.php
on line
66
Strict Standards
: Only variables should be passed by reference in
/www/htdocs/w0076070/blogs/wp/wp-includes/gettext.php
on line
66
Deprecated
: preg_replace(): The /e modifier is deprecated, use preg_replace_callback instead in
/www/htdocs/w0076070/blogs/wp/wp-includes/functions-formatting.php
on line
76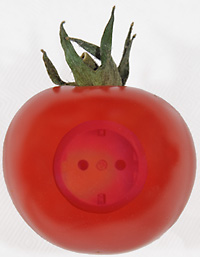 Nein, heute ist nicht der 1. April. Könnte man aber meinen, wenn jemand behauptet, dass der Strom mit Hilfe von Tomaten erzeugt wird. Wie in Großbritannien. Green energy uk liefert nach Eigenangaben 100% "grünen" Strom. Eine Filiale des Händlers Waitrose in Rickmansworth bekommt seinen Strom von Tomaten, die nach ihrer Ernte auch im Laden verkauft werden. Und das geht so:
Die Tomaten im Gewächshaus werden mit CO2 (Kohlendioxid) "gefüttert" (bzw. begast). Als notwendiges Element der Photosynthese trägt das CO2 dazu bei, dass die Tomaten sich geschmacklich besser entwickeln. Bei der Produktion dieses Gases entsteht wiederum Wärme, die dazu genutzt wird, die Gewächshäuser zu heizen. Angeschlossen ist außerdem eine Turbine, die mit C02 angetrieben Strom erzeugt. Dieser nachhaltige Prozess wird als "Combined Heat and Power" (CHP) bezeichnet.
Dough Stewart von green energy uk sagt dazu auf femalefirst: "Electricity from growing tomatoes is extremely positive because it has multiple benefits and no waste – all the heat is used for warming the greenhouses, the CO2 is 'fed' to the plants and the electricity goes to consumers and businesses who want green power. It's great to work with Waitrose on a project like this because it makes a great deal of sense to use these resources. It's an excellent piece of joined-up-thinking"
Ich meine: Noch umweltfreundlicher wäre es natürlich, wenn man die Tomaten gar nicht erst unter Glas anbauen müsste. Das ist nämlich im Grunde überhaupt nicht umweltfreundlich. Aber das geht wohl gerade in GB eher schlecht … Also: Strom, der aus dem Gewächshaus kommt, ist sicher besser als sich gar keine Gedanken über alternative Energien zu machen.