Strict Standards
: Only variables should be passed by reference in
/www/htdocs/w0076070/blogs/wp/wp-includes/gettext.php
on line
66
Strict Standards
: Only variables should be passed by reference in
/www/htdocs/w0076070/blogs/wp/wp-includes/gettext.php
on line
66
Strict Standards
: Only variables should be passed by reference in
/www/htdocs/w0076070/blogs/wp/wp-includes/gettext.php
on line
66
Strict Standards
: Only variables should be passed by reference in
/www/htdocs/w0076070/blogs/wp/wp-includes/gettext.php
on line
66
Strict Standards
: Only variables should be passed by reference in
/www/htdocs/w0076070/blogs/wp/wp-includes/gettext.php
on line
66
Deprecated
: preg_replace(): The /e modifier is deprecated, use preg_replace_callback instead in
/www/htdocs/w0076070/blogs/wp/wp-includes/functions-formatting.php
on line
76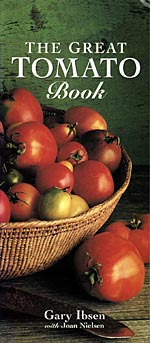 Das Great Tomato Book kommt rein äußerlich ähnlich daher wie "100 Heirloom Tomatoes for the American Garden". Doch inhaltlich unterscheiden sich die beiden Tomatenbücher.
Während das Heirloom-Buch ganz und gar dem gärtnerischen Aspekt widmet und sehr ausführlich den Anbau, die Zucht und zu einem großen Teil die alten Tomatensorten beschreibt, ist "The Great Tomato Book" ein Rundumschlag.
Gary Ibsen gibt Tipps zum Anbau, zum Trocknen von Tomaten oder auch Nützliches, wie man beispielsweise die Tomatenernte zeitlich in die Länge ziehen kann. Im zweiten Teil des Buches gibt es Tomatenrezepte.
Am Ende gibt es Hinweise zu Saatgutanbietern, Tomatenfestivals und weiterführender Literatur.
Das Buch ist ebenfalls schön gemacht, allerdings sind nicht alle Sorten bebildert, so dass der Schwerpunkt auf dem Text liegt. Mir gefällt das Buch, auch wenn ich gestehen muss, dass ich "100 Heirloom Tomatoes for the American Garden" häufiger in der Hand habe.
Bevor ich es vergesse: Das Cover hat der Verlag inzwischen geändert. Mein "first printing" von 1999 dürfte inzwischen Seltenheitswert haben